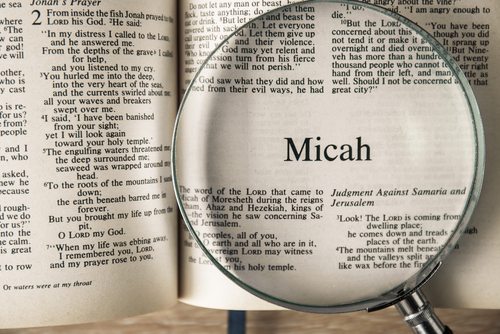 Walking With God Into the New Year
December 30th, 1990 @ 8:15 AM
Play Audio
WALKING WITH GOD INTO THE NEW YEAR
Dr. W. A. Criswell
Micah 4:5
12-30-90    8:15 a.m.
And we are no less thankful to the dear Lord for the group here this morning.  I am surprised at how numerous you are.  I thought I would be here with my paid staff who would get fired if they were not present, and that would be about it.  But, oh, we have a beautiful group, and I thank God for you!  This will be the last sermon of your pastor as pastor.  And beginning next Sunday we shall have a glorious beginning in a new ministry in our dear church.  We will welcome Dr. Gregory and his sweet family, his wife and two boys, and we will do it in a beautiful way.  Our search committee and our hospitality committee have arranged for a reception for the family in the Fairmont Hotel, after the service next Sunday night.  We look forward to their coming.
The title of the message is Walking with God into the New Year, and it is a text based upon the fourth chapter of the Book of Micah and the fifth verse:  "For all nations now walk in the name of their god, but we, we will walk in the name of the Lord our God for ever and ever" [Micah 4:5].
In the Bible are some splendid New Year's resolutions.  For example, in Joshua 24:15:  "Choose you this day whom you will serve . . . but as for me and my house, we will serve the Lord."  What a magnificent commitment!  Or the one that you just read from the third chapter of the Book of Philippians:  "I press toward the mark for the prize of the high calling of God in Christ Jesus" [Philippians 3:14].  But I could hardly think of a finer New Year's resolution than my text of this morning:  "We will walk in the name of the Lord our God for ever and ever" [Micah 4:5]; walking with God in the morning of life, walking with God in the noonday of life, walking with God in the evening of life, and walking with God into the night.  Walking with God:  some of the sweetest notices and pericopes and passages in the Bible concern just that.  For example, the fifth chapter of Genesis:  "And Enoch walked with God: and was not; for God took him" [Genesis 5:24].
A little girl in a Sunday school class, seeking to expatiate on that text, said, "And Enoch and God walked together, and they walked and they walked and they walked.  And when the eventide came, God said to Enoch, 'Enoch, you are closer to My house than you are to yours, so you just come and stay with Me'"; a beautiful way to describe it.  Or in the twenty-fourth chapter of the Book of Luke, when Jesus, unknown to the two of Emmaus, walked toward their home [Luke 24:13-16]; then He showed Himself, they recognized Him, and He disappeared out of their sight [Luke 24:30-31].  And they said, "Did not our hearts burn within us, as He talked and walked with us by the way?" [Luke 24:32].  So we speak of walking with God into the New Year.
First, walking with God into a changing world; 500 BC, Pythagoras lived in southern Italy, and Heraclitus lived in Ephesus.  And one of the famous words of Heraclitus is this:  he said, "You cannot step twice into the same river:  the ever flowing waters change the current."  So it is with life:  it changes, it inevitably changes, it forever changes, and the changing world into which we are now plunged, some of it brings great trepidation and anxiety to our hearts.
I looked at a little brief television space, just happened to be there turning it on, and they were showing a factory in America.  And in that factory, they were making thirty thousand leather sacks for our soldiers who are to be killed, beginning January 15.  I was talking to this boy, Gil Strickland, God's precious preacher: he's on alert and should have been gone a week or two ago.  He's a chaplain.  The dread we have for these coming days is indescribable.  Who knows, when you are facing an enemy who says, "With poison gas and germ warfare we will destroy Israel, to begin with," and then of course the outreach of the conflict in all that part of the world, great God!  What does the day hold for us as we walk into the days of the new year?
It is such a changing world.  Even the statesmen who are conversant with all of the political governments of the nations of the earth have been overwhelmed by the developments in Russia and in the nations beyond the Iron Curtain, in Eastern Europe.  What does it hold for us?  Some of these headlines say that even in Russia there is an imminent civil war; walking with God into a changing world.
And what could I say of the new America?  I do not recognize it as I think of it in the days of my childhood and young manhood.  The secularization of American life and culture is a phenomenon that no one would ever have thought for, or guessed for, or imagined.  The life of our nation as depicted in television, with its violence and its promiscuity and its irreverence, is almost beyond thinking.
About a day or two ago, in the newspaper, Hal Holbrook, who gave up a hefty Hollywood paycheck to play King Lear, Shakespeare's King Lear in Broadway, told the Chicago Tribune, quote, "Show business has become so corrupt, it's one of the most disgusting forms of endeavor on earth today.  There is a horrifying cynicism that has laid itself upon us like a plastic sheet."  How tragically true.  This is modern America.
As we face the new year, I live in a pastoral world where the sorrows of life are so constantly evident.  The day before Christmas, Christmas Eve, I buried two of our finest deacons.  The day after Christmas two others of our congregation were laid to rest.  I [held] the funeral message for one of them, and one of my fellow ministers for the other one; and as I think of my sweet people, as I stand in the pulpit, who is it, who is it that will be absent from our family this time next year?  Going through the congregation—the presence of death, inevitable—beside the living death that brings to our people the outpouring of tears as they hold their faces in their hands, walking with God into a changing world.
How beautifully precious and comforting it is to remember that our great God and Savior does not change!  In Hebrews He is described, "Jesus Christ the same yesterday, and today, and for ever" [Hebrews13:8].  Or as Malachi, the last of the Old Testament, avows, "I am the Lord thy God; I change not" [Malachi 3:6].  Remember this beautiful hymn written a hundred fifty years ago?
Swift to the close ebbs our life's little day;
Earth joys grow dim; its glories pass away;
Change and decay in all around I see;
O Thou who changest not, abide with me.
Hold Thou Thy cross before my closing eyes;
Shine through the gloom and point me to the skies.
Heaven's morning breaks, and earth's vain shadows flee;
In life, in death, O Lord, abide with me.
["Abide With Me," Henry F. Lyte]
This is our hope and our prayer in all of the vicissitudes and fortunes of life:  our unchanging Lord.
Walking with God into the new year, not only this changing world, but our commitment to the living Lord who is the head of the church [Ephesians 5:23] and the leader of this precious body of Christ.  What does the world hold for us in this dear church, as we share the days of the new year?
I stood, as many of you have, in Independence Hall in Philadelphia, and I looked at the chair in which the presiding officer sat during the days of the Constitutional Congress.  As you know, it has a sunburst on it, inlaid, beautifully inlaid.  And as I looked at it, I thought of the observation of aged Benjamin Franklin.  When the Constitutional Congress was done, and they'd come forth with our magnificent instrument of government, aged Ben Franklin said, "As I looked at that chair day after day, I wondered whether it was a rising or a setting sun."  And he said, "Praise God, I believe it is a rising sun."
So as I look at our dear church, I believe our tomorrow is incomparably glorious.  When I came here to be undershepherd of the church in 1944, this is the forty-seventh year since, when I came to be pastor of the church in 1944, Dr. T. L. Holcomb was the executive secretary of our Sunday school board. And in a letter he wrote to me, I copy:
"Never yet has there been a downtown church that really has done the job:  reached the people commensurate with the great business houses, skyscrapers, movements of the masses.  We are watching your church, your program, your staff, your organization:  maybe you will do it."  That was what Dr. Holcomb wrote to me in 1944.  I still believe that our marvelous church has its greatest days before it.
We are facing an incomparable opportunity and open door.  We are welcoming this coming Sunday our pastor, Dr. Joel Gregory.  And in my humble persuasion, we have in him the finest Bible expositor living today.  I look forward to listening to him as he expounds the infallible and inerrant Word of God.  This coming Sunday he'll be preaching at all three services. Thereafter he'll preach three times a week:  at the eight-fifteen o'clock service, this service; at the seven o'clock evening hour; at the seven o'clock Wednesday evening hour; and I to begin with will be preaching at the eleven o'clock hour, at the 10:50 hour.  And we shall share the tremendous blessings of God upon the outreach ministries of this glorious family of the Lord—walking with God into the new year with our glorious church.
That carries with it our college.  This week our college is moving to its new campus, this week, on Gaston Avenue.  And what a glorious future that school has in the name of the Lord, dedicated to just one great commitment:  training preachers, and missionaries, and staff members for the kingdom of God.  Our marvelous First Baptist Academy—O Lord, how I thank God for that school!  When I held the first chapel service, we read the Scriptures, we sang Christian songs, we prayed to our dear Lord, and I preached a sermon, a message from God's Holy Book.  How I thank God for our First Baptist Academy!
And how I thank God for our thirty-one chapels; at this Christmas season, I read a great deal about helping the poor, and all the things that accompany the ministries at Christmastime.  But Scottie, what I love about our church is, three hundred sixty-five days out of the year, we're blessing and used of God to help those homeless and penniless and poverty-stricken people.  I love the thought of the ministries of our dear church, and I haven't time even to begin to expatiate on the things that characterize and fill the days in the ministries of our congregation downtown:  these choirs, these orchestras, our Sunday school classes, our WMU, our men's work, the preaching of the gospel, the care for the sick and the dying.  O God, how I thank Thee that I could be an undershepherd of a wonderful church like this dear church in downtown Dallas!
Walking with God into the new year, into a changing world, into a fellowship with the family of the Lord in our precious church, walking with God until He comes again.  When will it be?  We are taught in the Lord's Holy Book the imminency of the coming of Jesus; imminent, i-m-m-i-n-e-n-t, the imminency of the coming of our Lord.  Any day, any time, any hour, our Lord could come for His own [1 Thessalonians 4:16-17].
One of the things that will impress you when you look at 1 Corinthians; it's written in Greek, as the whole New Testament is; it is written in Greek, and you read it along in Greek, read it along in Greek, and then at the end of it, at the end of it, the apostle Paul put in an Aramaic word: maranatha, an Aramaic word.  It just looks so strange there.  Greek, Greek, Greek, Greek, then that Aramaic word, maranatha: "the Lord comes!  The Lord comes!"  [1 Corinthians 16:22]. That was what the first Christians used in bidding goodbye to each other. We'd say adios or "I'll see you," or some other word like that; they said "maranatha": "The Lord comes."
Another phrase that they used was achris hou elthē. That closes the Lord's Supper:  "For as oft as you eat this bread, and drink this cup, ye do show the Lord's death, you dramatize the Lord's death, achris hou elthē, until He come" [1 Corinthians 11:26].  And many, many, many, many of those Christians used that phrase in bidding one another goodbye:  achris hou elthē.  Some of them carried into martyrdom, burned at the stake, fed to the lions, bidding goodbye to their people, they would say, "maranatha," or "achris hou elthē, the Lord comes," or "Until He come."  They lived in the anticipation of the coming of our Lord, and we are to do that [1 Corinthians 11:26; Titus 2:13].
You see, in God's clock, it is always present.  In the third chapter of 2 Peter, "For a thousand years in God's sight is but as a day, and a day as a thousand years" [2 Peter 3:8].  Look, sweet people, according to the Word of God, He has been gone two days, two days; and He may come back the third.  Achris hou elthē; maranatha; "Even so, come, Lord Jesus."  Isn't that the way the Bible ends?  The twenty-second chapter, the last chapter of the Revelation, "He which testifieth these things saith, Surely, surely I come quickly.  Even so, come, Lord Jesus.  Amen" [Revelation 22:20].
I have to close.  Some of you have been on Mt. Zion in Jerusalem.  You remember the upper room, where the Lord instituted the Lord's Supper [Luke 22:8-12].  You remember the things of King David on Mt. Zion [2 Samuel 5:6-7:29, 24:10-24].  You remember Pentecost, there the Holy Spirit poured out on Mt. Zion [Acts 2:1-4].  Well, anyway, when I was there this last time, Mt. Zion had an extensive display of the tragedy of the Holocaust—room after room and display after display of the tragedy of six million Jews who were martyred by a dictator like Saddam Hussein.  Here would be a synagogue chapel, and you'd sit there or stand there, and look at those blood-stained garments.  While the rabbis were serving before God, they were slain, and their blood-stained garments were there, and you looked at them.  And so on, display after display—break your heart!  And the last one was especially poignant.  There was a table—this is the last display—a table, and on that table a case of soap made out of the bodies of Jews, soap; and a lampshade made out of the skin of a Jew, with the numbers tattooed on it.  And the last item on that last table, a plaque, a large plaque, and written in Hebrew, and on the plaque was a song that they sang as they were carried away into the gas chambers and into martyrdom.  And I took my pen, and I wrote down that song.  This is a literal translation—in Hebrew it flows far more beautifully—but this is that song:
Of all truth, this is the truth:
That we believe the Messiah is coming soon.
Despite the fact that He has not come today,
Despite any other fact of life,
This is the truth that we believe:
Messiah is coming soon.
[author unknown]
We of course accept His first coming [Matthew 1:20-2:1]; but like them now, we believe our Lord is coming soon [Revelation 3:11, 22:12].  The skies will open, and the Lord will descend, and His people will be raptured up to meet Him in the air; and so shall we ever be with the Lord [1 Thessalonians 4:16-17]; walking with God into the eternity that is yet to come [Revelation 22:1-5].
Oh, how precious the promise, and how vital the appeal that you join us and be ready to greet our Savior with us.  Amen.
Now Fred, let's sing us a song, and while we sing the song, a family you to come into the fellowship of our dear church; a one somebody you to give himself, herself, to the Lord Jesus [Romans 10:9-10]; anybody you to answer the call of the Spirit of God in your heart; while we sing the song, you come, and welcome, while we stand and while we sing.