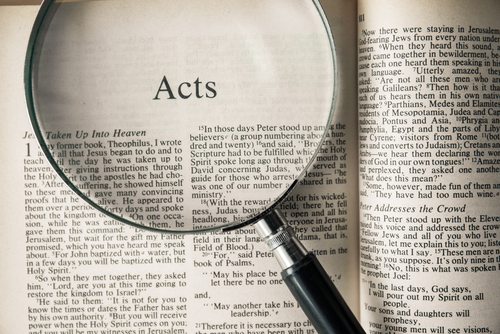 Paul's Iron Chain
August 12th, 1979 @ 10:50 AM
Acts 28:20
For this cause therefore have I called for you, to see you, and to speak with you: because that for the hope of Israel I am bound with this chain.
Play Audio
PAUL'S IRON CHAIN
Dr. W. A. Criswell
Acts 28: 20
8-12-79    10:50 a.m.
And with the great throng of you who are worshiping with us here in this sanctuary, we also welcome the uncounted thousands who share the hour on television and on radio.  This is the First Baptist Church in Dallas, and this is the pastor bringing the morning message entitled Paul's Iron Chain.  Today closes three years preaching through the Book of Acts.  Tonight the title of the message will be The Journey's End, Journey's End.  And that concludes three years of expounding this story of the beginning of the Christian faith in the first Christian century.
The sermon today is in the middle part of the twenty-eighth chapter of the Book of Acts, beginning at verse 16 and through verse 20: Acts 28:16-20: 
And when we came to Rome, the centurion delivered the prisoners to the captain of the guard: but Paul was suffered to dwell by himself with a soldier that kept him (to which soldier he was bound with an iron chain).
And it came to pass, that after three days Paul called the chief of the Jews together: and when they were come together, he said unto them, Men and brethren, though I have committed nothing against the people, or customs of our fathers, yet was I delivered prisoner from Jerusalem into the hands of the Romans,
who, when they had examined me, would have let me go, because there was no cause of death in me.
But when the Jews spake against it, I was constrained to appeal unto Caesar; not that I had aught to accuse my nation of.
For this cause therefore have I called for you, to see you, and to speak with you: because that for the hope of Israel I am bound with this chain.
[Acts 28:16-20]
Paul's iron chain; so many times is reference made to that bondage, that chain of the apostle Paul.  In the twenty-sixth chapter of the Book of Acts, "Agrippa said unto Paul, 'Almost thou persuadest me to be a Christian.' And Paul said 'I would to God, that not only thou, but also all that hear me this day, were both almost, and altogether such as I am, except for this chain'" [Acts 26:28-29].  In the letter that Paul wrote to the Ephesians, he begins the third chapter, "For this cause I Paul, the prisoner of Jesus Christ" [Ephesians 3:1], and in the last chapter, "I am an ambassador in bonds" [Ephesians 6:20].
In the next book, in Philippians, in the seventh verse: "It is meet for me that I think of you all, because I have you in my heart; inasmuch as both in my bonds, and in the defense and confirmation of the gospel, you are partakers of my grace" [Philippians 1:7].  Then in the twelfth verse: "I would like for you to know, brethren, that the things which have happened unto me have fallen out unto the furtherance of the gospel; So that my bonds, my iron chain, in Christ is manifest in all the Praetorian palace and in all other places" [Philippians 1:12-13].  Then in the next verse: "And many of the brethren in the Lord, waxing confident by my bonds, are much more bold to speak the word without fear" [Philippians 1:14].
Then speaking of another group, in the sixteenth verse: "One preached Christ of contention, supposing to add affliction to my bonds" [Philippians 1:16].  When I turned the pages of the Book to Colossians, in the fourth chapter: "Praying that God would open unto us a door of utterance to speak the mystery of Christ, for which I am also in bonds" [Colossians 4:3].  Then he closes the letter to the church at Colosse, "The salutation by the hand of me, Paul.  Remember my bonds" [Colossians 4:18].
In the beautiful letter to Philemon: "Paul, a prisoner of Jesus Christ" [Philemon 1:1].  Then in the tenth verse: "I beseech thee for my son Onesimus, whom I have begotten in my bonds" [Philemon 1:10].  Thirteenth verse: "Whom I would have retained with me, that in thy stead he might have ministered unto me in the bonds of the gospel" [Philemon 1:13].  And in 2 Timothy, in the first chapter, beginning at verse 16 is one of the most poignant of all of the passages of the Bible: "The Lord give mercy unto the house of Onesiphorus; for he oft refreshed me, and was not ashamed of my chain:  But, when he was at Rome, he sought me out diligently and found me. The Lord grant unto him that he might find mercy of the Lord in that day" [2 Timothy 1:16-18].   Apparently, Onesiphorus lost his life because of his avowed unashamed friendship with the apostle.  "The Lord grant unto him that he might find mercy . . . and in how many other things he ministered unto me at Ephesus, thou knowest so well" [2 Timothy 1:18].
Paul's iron chain; he prayed so fervently that he might preach the gospel in Rome.  When he wrote the letter to the church at Rome, several times he mentions the desire that he might come and preach to them the glorious gospel of Jesus Christ.  So when he comes to Rome, God fulfills that prayer, but in how different a way than he must have thought for.  When he comes to the Imperial City, he arrives laden down with chains, a prisoner under the surveillance and keeping of a Roman centurion.  What can a man do who is laden down with chains?  What can a man do who is imprisoned?  What can a man do who is behind bars and stone walls? 
Two things out of the Roman imprisonment of Paul are beautifully seen in the Holy Scriptures.  In the Book of Philippians, Paul writes that his bonds have been made manifest "in all the Praetorian Guard, and in all other places" [Philippians 1:13].  He was chained to a Roman soldier, and the guard was changed three times each day.  In those two years, Paul must have been chained to every one of that elite, Praetorian, personally chosen emperor's guard.  Can you imagine the effect that had upon that elite and imperial group?  Any man could belong to the Roman army, whether he was a Greek, or a Scythian, or a Gaul.  Anyone could belong to the Roman army, but no one could belong to the Praetorian Guard except a native born Roman who was tried and attested and true.  The Praetorian Guard was the personal guard and army of the emperor.  And to one of those soldiers, Paul was chained eight hours, eight hours, and eight hours, through the changing of the three in the course of a day and a night.  I repeat: can you imagine the effect that this mighty emissary of the courts of heaven had upon those differing and changing soldiers?  Not only what Paul would say to the soldier himself, but also the fascination of the soldier as he would listen to the apostle Paul talk to those who came to see him from the ends of the empire.  No wonder when he writes a letter, he will send greetings to the Christians in the provinces from those of Caesar's household. 
A second thing that arose out of the imprisonment of the apostle Paul: five of his most moving letters are prison epistles.  Ephesians, Philippians, Colossians, Philemon, and finally 2 Timothy, all were written out of a Roman imprisonment.  Somehow, the vivifying, startling, soul-moving truth of those letters could never have been born except as they were thrust into a human soul by the persecution and heartache and imprisonment brought on by the rage of man.  You would not have such startling and penetrating truth had it not been born in a life that had suffered like the apostle Paul.  Very few people, comparatively, hear a man's voice, however long he lives and however vast the throngs who are in attendance.  But when a man writes, his thought and his inspiration are immortalized in words and they live forever.  So it is that when Epaphras, or Tychicus, or Epaphroditus, or Aristarchus carried these letters to the churches of the Roman Empire, they were borne on the wings of the Spirit to all ages and to all generations and have thus come down to us – Paul's iron chain. 
Several times the apostle will refer to himself as "a prisoner of Jesus Christ."  He does so in Ephesians, the first verse of the third chapter, "I Paul, the prisoner of Jesus Christ" [Ephesians 3:1]  He will speak in that same way in introducing himself to Philemon, "Paul, a prisoner of Jesus Christ, to our beloved brother Philemon" [Philemon 1:1].  Now that's a turn that is astonishing and beautiful.  I thought he was a prisoner of the Roman army.  I thought he was a prisoner of Nero.  I thought he was a prisoner of the Praetorian Guard.  He says he is a prisoner of Jesus Christ.  He says that the other end of that chain is held by the hand of God.  He is a prisoner of Christ, and that opens for us a vast and illimitable encouragement in our own lives: he is handicapped, he is chained, but the handicap is God's.  The chain belongs to the Lord, and as such it is a complement of heaven.
Isn't that true in the life that we know in this world?  A handicap is a complement.  It is a complement in the athletic world.  If a man is a gifted, swift runner, when he races against others, in order to make the race more equal, the gifted man will be handicapped.  At the starting line, he'll be pulled back in order that the others might have an opportunity to race against him.  A handicap, in the athletic world, is a complement.
You fellows who waste your time playing golf, following that little white ball out there, a handicap is a complement.  If the fellow's not so good a golf player, and you are a superlative golf player, they'll give you a handicap in order for the contest to be a little more equal.  In the athletic world, a handicap is a complement.  It is so in the artistic world.  I suppose there's no story more frequently repeated than the one of Michelangelo.  A beautiful, big piece of marble was rejected and cast aside in the quarry.  Michelangelo, passing by, saw it.  It had been rejected because of a defect, but Michelangelo saw in it the beautiful, incomparable statue of David.  And in Florence, Italy, there it stands; a handicap, but out of it Michelangelo created that marvelous piece of living poetry. 
If you are in Florence and go to Pitti Palace, you'll see Raphael's Madonna of the Chair, drawn under a handicap, round, like the top of a barrel, just about that large.  How could you place in that that beautiful, beautiful painting?  The Madonna leans, and the Babe in her arms. 
Poetry is written under handicap.  It must follow, the words must follow meter, and many times rhyme, and always poetic fancy and imagery.  It is under a handicap, but it is beautiful and memorized and immortal because of the handicap. 
Thus it is in our lives.  A handicap is a complement from God.  What can a blind man do?  What can a crippled man do?  What can a hurt man do?  What can a man do who is invalid and sick?  I'm always moved by reading the incomparable sonnet of John Milton on his blindness.
When I consider how my light is spent,
Ere half my days in this dark world and wide,
And that one talent which is death to hide
Lodged with me useless, though my soul more bent
To serve therewith my Maker, and present
My true account, lest He returning chide;
"Doth God exact day-labour, light denied?"
I fondly ask. But Patience, to prevent
That murmur, soon replies; "God doth not need
Either man's work or his own gifts.  Who best
Bear his mild yoke, they serve him best. His state
Is kingly:  thousands at his bidding speed,
And post o'er land and ocean without rest;
They also serve who only stand and wait."
["When I Consider How My Light Is Spent," Sonnet 19; by John Milton]
Had that been in the Bible, in a psalm, it would have been, we are persuaded, no less beautifully inspired.  "They also serve who only stand and wait" – laboring under a handicap.
Robert Louis Stevenson, who all of his life was consumptive and died of it, wrote to his friend George Meredith, "For fourteen years I have not had a day's health.  I have wakened sick and gone to bed weary. I have written in bed, written in hemorrhages, written in sickness, written torn by coughing, written when my head swam from weakness.  My battlefield is this dingy, inglorious, one of the bed and the medicine bottle."
Laboring under a handicap; but out of those sufferings and trials have come the greatest blessings of human life.  It will be from the bloodstained snow prints of the feet of our revolutionary soldiers, under George Washington, that America is born.  It will be an incarcerated John Bunyan that will write Pilgrim's Progress.  It will be a grief-stricken Alfred, Lord Tennyson who will write an "In Memoriam."  It will be around the graves of the missionaries that the little churches arise on a foreign field.  It is in the sufferings of life that our greatest blessings are born.  And there is nothing that contributes to the virtue and the heroic in a man such as his struggling against a handicap and iron chain.
I read about Demosthenes, the greatest orator who ever lived.  The sentence was, "Demosthenes succeeded in spite of his handicap."  I think he said it wrong.  Demosthenes succeeded because of his handicap.  He filled his mouth with pebbles, and he stood on the side of the raging, roaring, sea and learned to speak above its cry and murmur and roar, because he stammered and stuttered.
The life of Abraham Lincoln is one of continuous failure; born in poverty, and in everything that he had a part in, he met failure and frustration.  But he said, "I will study and prepare myself, and someday my chance will come."  I was reading about Marcus Dods, a tremendously gifted theologian and Bible interpreter.  When he was graduated from the seminary in Scotland, for five years, no church called him.  How abysmally despairing would such a providence be.  Five years, not a church would have him.  But Marcus Dods studied, and he delved deep in constant scholarly pursuit after the truth of God in the Holy Scriptures, and one day, he had his chance.  And he is, you know, was one of the tremendous Bible interpreters of all time; struggling against a discouragement, a chain, a handicap.
This last week I had one of the most unusual experiences that I've had in a long time.  Eugene Green, one of the deacons here at the church, and some of those men, took it upon themselves that they were going to have a portrait photograph made of me by the greatest portrait photographer in the world – and, I presume, in preparation for my thirty-fifth anniversary here the first Sunday in October – so they haled down from Chicago Mr. Karsh.  He has a studio there.  They hailed down from New York City this man Mr. Karsh, in order that he might take that photograph here in the church.
So Friday and Saturday, the day before yesterday, and yesterday, why, I've been down here posing like a silly idiot in all kinds of ways and shapes.  Well, in the hours and hours that I spent with Mr. Karsh, I got acquainted with him pretty well.  He has made portrait photographs of the greatest men in the world, all of them, apparently; it's a book that's high and beautifully published.  Albert Einstein, and Albert Schweitzer, and Winston Churchill, and Ernest Hemingway [the] incomparable novelist, and Dwight Eisenhower, and the presidents of the United States, and Pablo Picasso – if you are, again, warped in mind, why, you'll love those paintings of Picasso – just on and on.
So, I asked Mr. Karsh, I said, "How do you like your work?"
 "Ah," he says, "It's the most interesting thing in the world.  For example," he said, "in 1941, I took a picture of a famous, world famous bishop, and being in the days of the World War, why, he was a chaplain, and he was dressed in a chaplain's uniform.  So," he said, "as I talked to the man, I had a hard time getting [him] to be relaxed."  And the bishop said to Mr. Karsh, he said, "Mr. Karsh, I'm accustomed to being not dressed like this, and I feel so uncomfortable and out of character in this uniform."  And Mr. Karsh said he replied to the bishop, "Well, maybe if you'd put your hands in your pockets, maybe you'd be a little more relaxed and comfortable."  And he said the bishop replied to him, "Mr. Karsh, being a bishop, I think I would be more relaxed and comfortable if I could put my hand in your pocket."
Well, thinking about all of those incomparable world figures that he had photographed and had worked with, hours and hours in doing it, I said to him, "Out of all of those marvelous and incomparable leaders of the world that you have photographed, which of them is the greatest and which did you delight in the most in taking the picture?"  Well, I thought he would have said Winston Churchill.  He had an ability of lifting up the discouraged hearts of a people beyond any man or political statesman who ever lived.  I thought he would have said Winston Churchill.  Or, if you were a scientist, I would have thought you would have said Albert Einstein, or any of the rest of those marvelous, world-famous people.
When I asked him – and he's an old man now, and has been doing this all of his life; he's an Armenian, born over there in Turkey – I asked him, "Out of all of those that you have ever known and worked with in your photography, who is the greatest and who made the greatest effect upon you?" 
And to my amazement, he replied, "Helen Keller."  Helen Keller!  Why, Helen Keller was born blind and never saw, born deaf and never heard, and, as such, never spoke – dumb.  The only relationship she could ever have with the outside world was the feeling of sense on her hands.  And when Mr. Karsh said, "Out of all of the great of the world that I have ever been with Helen Keller is the greatest."
I could not help but express astonishment: "You mean Helen Keller?"
 He said, "Yes.  Her beautiful Christian character and her sweet and gentle spirit were beyond compare."  A handicap is a complement from God!  It is His hand that holds that iron chain. 
No one is beaten till he quits,
No one is through till he stops
No matter how hard Failure hits,
No matter how often he drops,
A fellow's not down till he lies
In the dust and refuses to rise.
Fate may slap him and bang him around,
And batter his frame till he's sore
But she can never say that he's downed
While he bobs up serenely fore more.
A fellow's not dead till he dies,
Nor done till he no longer tries.
["Defeat," by Edgar Guest]
If you think you are beaten, you are;
If you think you dare not, you don't.
If you'd like to win but think you can't
It's almost certain you won't.
If you think you'll lose, you're lost.
For out in the world you find
That success begins with a fellow's will;
When Christ has the whole of his mind.
Life's battles don't always go
To the stronger and faster man
For sooner or later the man who wins
is the man who thinks that he can.
[adapted from "The Victor," C. W. Longenecker]
A handicap is a complement from God and brings to us in our Lord a wondrous virtue and strength.  It was because pastor Clement Moore was too poor to buy any kind of a little gift for his little girls that he presented to them a Christmas present: it was a poem that he wrote – "'Twas the night before Christmas, and all through the house / Not a creature was stirring, not even a mouse."  It's immortal, and it came, was born in necessity and poverty, because the pastor never had enough money even to buy his little girls a small Christmas present.
Because a heavy snowstorm fell on the little Tyrolean church and damaged the organ [so] that it wouldn't play, that the pastor Mohr, M-o-h-r, and the organist Gruber sat down and wrote a carol that the choir could sing without musical accompaniment.  It is entitled "Silent Night, Holy Night," the most precious of all the carols that we sing, born in distress and necessity and handicap!
It was because a mother had no place for her little newborn Babe that she wrapped Him in swaddling clothes and laid Him in a manger [Luke 2:7]; that He might be moved with the feeling of our infirmity; for in all points, He was tried as we are [Hebrews 4:15].  There's nobody poor, and He wasn't poor.  There's nobody who cries, and He did not cry.  Nobody who weeps, and He didn't weep.  Nobody bowed down with sorrow, and He didn't sorrow.  Nobody who suffered, and He didn't suffer.  No one ever hungry, and He did not hunger.  No one who ever felt in his heart the rejection of men, and He did not feel despised and rejected.  Out of the tears, and sorrows, and poverty, and need of His life, the whole world feels comfortable, and close, and wanted, and invited into the presence of the great King and Lord of heaven.
It's a precious gospel we preach.  It's a marvelous Lord that we have, and the gospel message is framed in love, and sacrifice, and tears, and sorrow.  In all of the trials of our lives, we have a sympathetic and understanding High Priest, Intercessor [Romans 8:34, Hebrews 4:14-16].  There's just nothing in the earth as comforting and as strengthening as the friend we have in Christ Jesus. 
Now, may we stand together?
Our Lord in heaven, had You been born in a palace, and all Your life had known nothing but imperial power, and riches, and luxury, most of us would have felt uncomfortable in Your presence.  But, born poor and lowly, full of heartache and suffering, we feel that we have a sympathetic friend in Thee, the Lord who knows all about us, understands, and He is moved with the feeling of our infirmities; He knows, and He loves, and He cares. Oh! [Hebrews 4:14-16].
What a Friend we have in Jesus,
All our [sins and] griefs to bear!
 What a privilege to carry
Everything to Him in prayer!
["What a Friend We Have in Jesus," Joseph M. Scriven, 1855]
 And our Lord, we pray that every heart and life, every home and family may have that loving touch of the living Lord in their lives. 
In this moment, in this precious hour, there's going to be a deacon standing at the head of each one of these aisles.  Our choir in a moment will sing a hymn of invitation, our ministers will be here to pray, and the Holy Spirit is inviting you to come to the Lord: "Today I accept Jesus as my Savior," or "Today we're putting our lives in the fellowship of this dear church."  "God has spoken to me and I'm answering with my life."  Down one of these stairways, down one of these aisles; make it now, come now. "I have decided for Christ, and here I am."  May the Holy Spirit guide you, and bless you, and encourage you as you take that first step and trust Him for the rest of the way, while we wait, while we pray, and while we sing.